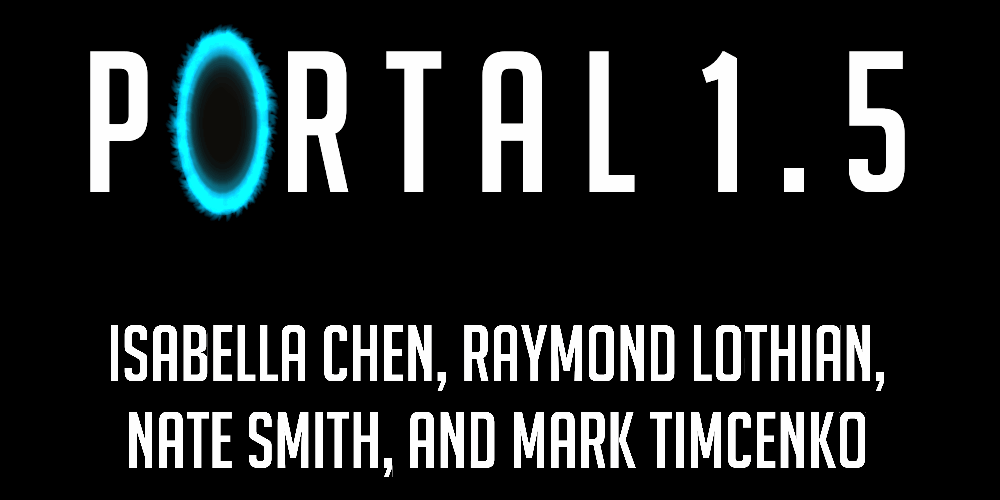 Portal 1.5
A downloadable game for Windows and macOS
Final project for Intermediate Game Development Spring '20.
Controls:
WASD - Move
Left/Right Click - Shoot portals
E - Grab objects
Space - Jump

Description:
Our group chose to create a clone of Valve's iconic Portal puzzle game. We have deemed it "Portal 1.5." Portal 1.5 incorporates many of the main puzzle mechanics seen in the original Portal: teleportation, the Weighted Storage Cube, buttons, and doors. The portals are smooth and behave like they do in the main Portal games. Our clone contains three levels that showcase all of the aforementioned mechanics. Use the cube to complete puzzles, the portals to manipulate physics, and the buttons to open doors! We gave it a personal twist with the sounds, as we couldn't copy from the game, but they fit in nicely to create a clone with our group's signature on it. Painstaking work was done to make the portal gun as accurate as possible, and thanks to that, we managed to truly clone the iconic gun from the main franchise. There was also attention and time spent on making the portals as smooth as possible, and they came out splendid. We even designed a start menu that greets the player and sets the tone for the game. Overall, our clone showcases the main mechanics of Portal through bite sized levels.
Modelling and texturing: Isabella Chen
Code, lighting, producing, and portalling: Nate Smith
Sound: Mark Timcenko
Level design: Raymond Lothian
Credits:
Font:
Big Noodle Titling by Sentinel Type.

Sounds + Music:
Ambience, Machine Factor, A: InspectorJ
washing machine ambience 3: FenrirFangs